Stage chocolat chez Valrhona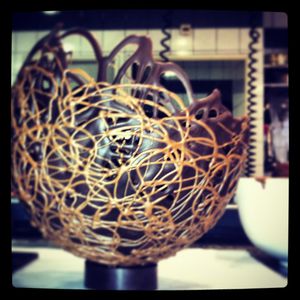 J'ai eu l'immense joie de participer à un stage chez Valrhona au mois de Mars, sur le thème de Pâques. Un très beau cadeau de ma famille et de mes amis.
Pour ceux qui ne connaissent pas, Valrhona est une société proche de Valence qui fabrique le meilleur des chocolats. Ils travaillent le chocolat depuis la fève qu'ils achètent directement aux producteurs.
Valrhona est le partenaire chocolat des plus grands pâtissiers et chocolatiers dans le monde!
The top of the top!!!!
En plus d'apprendre à réaliser ganaches, sabler des fruits secs et à tempérer de la couverture sur des marbres (loin d'être évident j'avoue!!!), nous avons réalisé qqes beaux montages.
Voici les photos
Encore merci à tous pour ce très très beau cadeau!!!